Virtual background lets you add background to your meeting video. This feature automatically masks your profile and replace the background with another image (whichever you choose or upload).
This works best if you have a solid color background (a wall). Green screen works great. Also, you should have a contrast clothing compared to the background. To get the most of the virtual background use an HD webcam or higher quality webcam with good lighting.
How do I Enable Virtual Background in my profile
Log into your account
Go to the Settings page
By default, the settings page displays the meeting tab. see Fig 1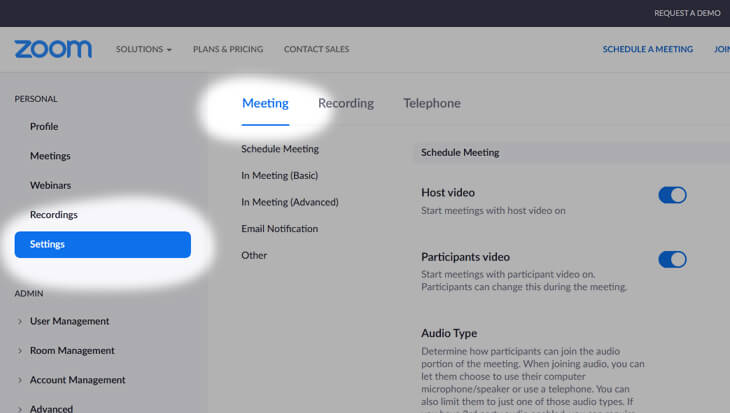 You will see many options under the meeting tab.
Press 'Ctrl F' (on chrome)
Enter 'virtual background' in the search bar
It will take you to that option immediately. By default, it will be active, if not you can do it manually. See Fig 2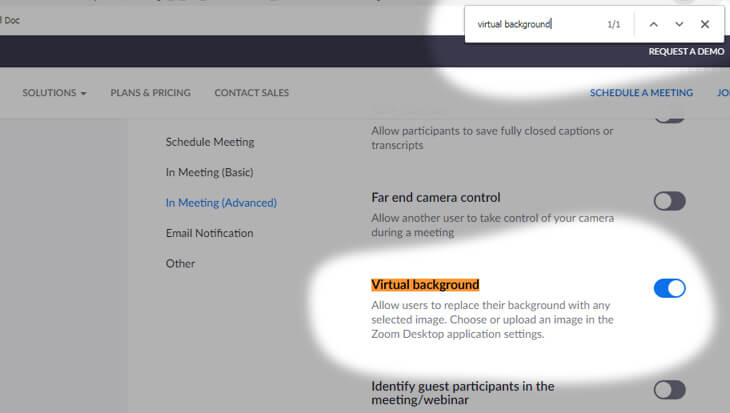 How to set the Background for my meeting in PC
Make sure Virtual background is enabled from the settings.
Open your Zoom Desktop Client click the top arrow next to the start/stop video icon
Select 'Choose a virtual background'

How to set the Background for my meeting in Mobile [Android]
As of now Zoom ver 4.6.10 the virtual background feature is NOT available for Android
What types of Background files I can use.
You can use an Image or Video file as your Virtual Background.
What is the required Image size and format for the Virtual Background
You can use any size you want, zoom doesn't have any restriction on image sizes. But they recommended.
Minimum resolution: 1280 x 720 (aspect ratio 16:9)
Image formats: .bmp, .jpg, and .png
What is the required Video size and format for the Virtual Background
For video, zoom provides two resolutions.
Minimum Video resolution: 480 x 360 (360p)
Maximum Video resolution: 1920 x 1080 (1080p)
Video format: .mp4, .mov
Can I upload my Image or Video as Virtual Background
Yes, you can. Zoom does not have any size restrictions for Virtual Background but they do suggest you follow the resolutions mentioned above.
Where can I Download Best Royalty-Free Images for my Virtual Background
Here are some of the sites you can download Royalty-Free images and use them on your Virtual Background
Unsplash (https://unsplash.com/)
Pexels (https://www.pexels.com/)
Pixabay (https://pixabay.com/)
Here are some curated backgrounds to save some time
I have enabled Virtual background but I cannot see it in my Zoom Desktop client. – [Troubleshooting]
It could be because you have already logged into your account or probably you are in the middle of the meeting and trying to enable the Virtual Background from the settings page, if that's the case then you need to Log out from the Zoom Desktop Client (meeting window) and Log in again.
How do you like this article?